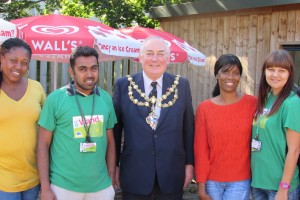 The WAND card, for children and young people with a special need or disability, is an innovation from Wandsworth Council. Youngsters experience all sorts of below-the-radar discrimination, such as having to listen to a parent explain why their child needs special attention, or why they should go to the head of a queue, as their child has ADHD. At the very least this is an unnecessary humiliation for the child.
The WAND card aims to provide a child or young person up to nineteen years old with both a method to quickly help them, and a way to access discounts and concessions from shops and services cordially. Lucia Daniels, Disability Information Manager at the council says, "It is a very helpful form of ID which saves a parent or carer having to explain about a disability, and informs staff that the holder of the card may need extra help. For example, opening a shop early so they can make a purchase if the child gets distressed by bright lights and noise at busy times."
It was launched 3 years ago, in September 2012. Nearly 900 cards have been issued and they are recognised at over 50 establishments within the borough, such as leisure centres, Battersea Park Zoo, libraries, restaurants, barbers, shoe shops, pharmacies and many other outlets. Southside Shopping Centre recognises the card and Neil Churchill, its Manager, says, "We wanted to get involved because we saw it as an opportunity to help our community. It has an amazing impact on those who need our support, those people that we can help. Ultimately if they are using us and we are recognised as disabled-friendly and aware, then its obviously a bonus for our business and they are more likely to visit us again." Although created specifically for the borough, the card has also been used in other parts of London and the UK, and even got one user a discount in France.
Lucia Daniels emphasises the positive profile of the card, "We want our users to see it as a passport to activities. So youngsters who have it feel they are part of a special club." There are various criteria for getting a card but the main one is that the child or young person aged up to nineteen has a complex disability or communication disorder that might otherwise stop them getting out and about.
Wandsworth Council are aiming for 1000 users by the end of the year. The plan is to get businesses in all the five main shopping hubs to recognise the card. The council also wants to have businesses support the card in an active way, and they are looking at ways of engaging sponsors.
Find out more about the WAND card
Author: This article was written by Julian Jackson, Wandsworth Chamber of Commerce's resident blogger and copywriter – www.julianjackson.co.uk https://julianj.journoportfolio.com