Author: Cyril Richert
A planning application 2015/1597 from Grand Union bars is proposing a change of use from A3 (restaurant and cafe) to A4 use (drinking establishment), including use of garden, area until late nights, with music and DJs.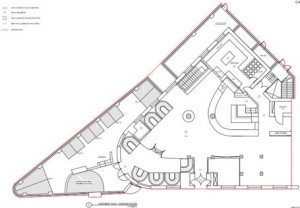 The location is currently occupied by the Big Fat Panda, a Chinese buffet restaurant (food is also available to takeaway or for delivery from the a-la-carte menu, or to takeaway as a box from the buffet for less than £5). Opening hours are Mon-Fri 12:00noon to 5pm and Sat-Sun 5:00pm to 10:30pm.
The merit of this buffet restaurant in the area has been discussed (and often criticized – amazingly some customers expect to get a top range gourmet food menu for less than £4.50 and then shout their deep disappointment!) and the facility could be better used, especially as there is some outside area that is currently not used. However, as most of the façade (and 70% of the outside area) is facing residential area, the "early" closure during the week and late afternoon at the weekend as been little disturbance for the neighbourhood.
All of that is now at stake as the proposal is to transform the venue into a trendy bar/nightclub. A basement covering to full area occupied by the building would welcome dancing area and drinking alcoves.
A planning application flawed with errors/misleading information with proposal to close at 3.30am
First of all the planning application is flawed with errors. For example, the existing gross internal floorspace is said to be 278 square metres (sqm) and the net additional gross internal floorspace following development is said to be 518 sqm. However the total gross new internal floorspace proposed (including changes of use) is… 518 sqm! Later on the application, we read that the total site is ….3,000 sqm (shouldn't it be sq feet?).
Similarly the Council's website is displaying proposed opening hours such as Sundays to Wednesdays: 10:00am to 23:30pm, Thursdays 10:00am to 01:00am and Fridays and Saturdays: 10:00am to 02:00am. However the application itself says "Extend terminal hours to 1am Thursday's, 2am Friday's and 2am Saturday's" (3. Description of the Proposal) but also Monday to Saturday from 8am to 2am, and Sunday from 8am to 10.30(pm?) (20. Hours of Opening). In addition it is contradictory with the licensing application recorded on the Council's website as this states Music until 2.30am on Fridays and Saturdays, with alcohol until 3am (closing then at 3.30am)
Grand Union: DJ bars and late opening hours
Grand Union Bar has a reputation of DJ bars with late weekend licence, flea-market furniture and beer garden (Google Reviews). However the venues are often criticised for their prominent bouncers.
They have 8 bars in London, one of them being in Wandsworth High street. Opening hours may vary: Camberwell closes at 23pm or midnight, Brixton closes between midnight and 1.30am, Camden closes often at 23pm and at the end of the week at 1am, Chancery Lane's venue is open until 2am from Monday to Saturday (Sunday closed) and Farrington closes even late, at 3am on Fridays and Saturdays. Therefore the existing Wandsworth's venue opening hours are in the average: Mon-Tue 12pm-11.30pm, Wed-Thu&Sun 12pm-00am, Fri-Sat 12pn-1.30am.
The proposal aims to compete with the Revolution Bar (proposed capacity of 500 for Grand Union to compare with 650 when the basement is used at Revolution) located in one corner of the Clapham Junction crossing, less than 100 yards from Clapham Junction station entrance, facing a large paved area and with no frontage to residential property. We note that despite this desirable location, complaints regularly hit the Council from the residential street at its back regarding loud drunk customers at closing time and refuse collection mess. Wandsworth Licensing Committee authorised extending opening hours in September 2012 for the site, with conditions that ending hours for external seating area will be 10pm every day (Grand Union is suggesting 11.30pm for their bar with outside seating facing residential streets!)
A massive protest from nearby neighbourhood
On the Council's website we count 50 objection and only 1 support on the 13th April. The supporter claims that "a bar is the natural choice for this area as there is clear demand for Northcote Road/Lavender Hill/St John's Hill, given several similar establishments popping up in recent years. […] at present we do not have a problem with drunken revellers […] this new place is likely to attract the same well-behaved clientele as Bar Social, The Merchant and the speak-easy under the Breakfast Club."
On the other hand, many other local residents disagree and on of them said:
The main concerns are that granting such an application would:

Dramatically change the character and peaceful nature of the family orientated neighbourhood we live in
Create noise from people queuing outside to get into an establishment that is open until 2am / 3am
Negatively effect the peaceful nature of the area with recorded and live music planned especially with so many windows and doors facing Lavender Sweep
Cause disruption to residents if people are sitting in the garden area which is entirely on Lavender Sweep
Create congestion issues whether due to deliveries, refuse collection or taxi drop offs / pick ups due to Lavender Sweep being 1-way street
Increase general waste in the area (both human and otherwise)
Cause disruption in the early hours of the morning with bottles and other waste being put into wheelie bins after closing
Create car parking issues for residents

Our end of Lavender Sweep is now a very nice, friendly little community of it's own, and a bar of any description would hugely increase the level of noise, traffic (human and vehicular), parking, waste (human and otherwise) which would negatively impact the nature of the neighbourhood we live in and the pleasant neighbourhood we, as residents, have helped to create.
The Council refused the garden being used in the past
Another resident pointed out that Wandsworth Council refused usage of the outside space for eating and drinking in the past, specifically due to disturbance for Lavender Sweep residents.
"It is relevant that when permission was given in 1996 for a café/bar, at the relevant site's location, one of the conditions prohibited the use of the garden being used for eating or drinking purposes. In the Council's assessment of subsequent applications for variations of that permission, to include the use of the outside space, it was specifically stated by officers that the use of the garden would result in disturbance for neighbours, particularly opposite and to the south along Lavender Sweep.

Despite these reservations, Wandsworth Council gave three periods of temporary permission, between 1997 and 2003, to use the external space as ancillary seating (note: the '01 and '03 permissions limited the hours of use to between 9am and 7pm) and two other applications were refused (in 2000) because it was likely to cause undue harm to the amenity of neighbouring occupiers in the form of activity and disturbance at times when they could reasonably expect peace and quiet. The reason the permissions were temporary was to enable the Local Planning Authority to assess the impact of the external use on the area. "
One of the objection has been filled by Councillor Guy Senior, member of the cabinet, who wrote:
"This proposal is completely inappropriate in this location. It is surrounded by residential properties and will cause considerable noise and disturbance to local residents. The arrangements for deliveries and rubbish disposal are also not appropriate and will be noisy."
We object to the proposal
We support the local objections to the proposal, based on the following arguments:
The majority of the outside space is located in a entire residential area (Lavender sweep and Eccles Road are both one-way streets) and is currently unused. The change will create a considerable nuisance in term of noise (until very late at night). In addition, some flats in Pavilion Chambers are directly above the building and a nar/nightclub at this location will undoubtedly have impact (we note that DJs are planned both on the ground and basement floors)
Customer nuisance for such premises is a fact and even when they intend to minimise it, they never manage to avoid it. Running engines, playing music, and talking late at night when facility is closing are usual complaints from residential areas close to such premises. Inevitably the residential roads will be used by customers joining the only facility open in Clapham Junction until 3.30am, a long time after most of the other bars are closed, especially in Northcote road.
It is likely that those quite street will be used as an impromptu urinal by inebriated patrons making their way home, as it is already the case on Severus Road (near the Clapham Grant) or Beauchamp Road (an objection said "we have customers from current pubs/bars coming up to this part of the Clapham junction urinating on corners, our walls, including entry into our homes").
Lavender Sweep is already used as a rat run by some drivers at night, cutting short from Battersea Rise to join Lavender Hill. The residential streets already suffer from congestion due to the one way road layout and on-street parked cars. As it can be seen on similar areas with high profile bar, the problem will exacerbate as drinkers are dropped off or picked up, or simply go back to their parked cars at night.
The necessary refuse collection and deliveries will be likely to obstruct the street and create hazard for passer-by, especially as it is located partly on a crossroad marked as shared space between vehicles and pedestrians (specific road treatment, part of the Exemplar scheme, which is in practice used very frequently as a pedestrian crossing).
In conclusion, both the planning and licensing application seem preposterous in regard to the location and specific surrounding of the area. Suggesting an opening up to 3.30am at night for a site with the majority of its building and outside areas opening to a residential should be at least considered as clumsy, or even provocative. We join the voice of local residents and local Councillor Senior and trust that the Council will reject those applications.
Filed under: Clapham Junction