An update exhibition for the regeneration of the Winstanley and York Road estates will take place at York Gardens Library at the following dates:
3pm – 8pm, Wednesday 19 November
​2pm – 5pm, Thursday 20 November
10am -1pm, Friday 21 November
The exhibition will include:
Inkster and Penge refurbishment plans
Update on development at Bramlands
Results of tenants housing needs survey
Update on preferred option
Development along Grant Road
Winstanley Estate public realm improvement
York Gardens and community facilities
A team will be there to answer questions. Including:
Philip Morris, Winstanley and York Road Regeneration Project Manager
Charlotte Haley, Winstanley and York Road Regeneration Project Officer
>>> See our previous article in our Winstanley/York Road redevelopment dossier.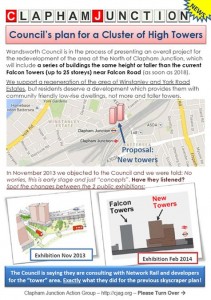 We are currently distributing leaflets. If you can help us to distribute in your area, please contact us.
Filed under: Winstanley&York Road