Author: Cyril Richert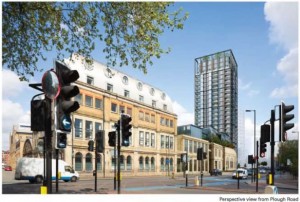 A scoping exercise last year for a 30 storey tower in 100 York Road has now turned into a more advanced pre-application as the developer organised an exhibition to promote their scheme at the end of January 2016.
The exhibition presented in January shows several building (essentially a tower of 25 storeys and a 6 storey neighbouring block), with a retention of the original Candle factory building. The new development will include 162 new dwellings (1,2 and  3 bedroom appartements), 72 parking space and 18 residential cycle spaces. It will deliver 3,200 sqm of office space.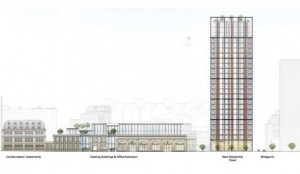 According to the developers, a previous exhibition organised in December 2014 presented 3 options. The developers argue that the options "focusing on making the best use of the space available and on integration with surrounding community space [and to] prioritise the layout of the new buildings and their architecture relative to nearby developments" was rejected and new blocks incorporated into the site was much preferred. Therefore the result is that: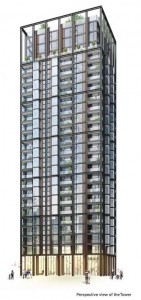 If you feel flabbergasted by the proposal, have a look at the initial scoping opinion (p.a. 2015/1835), requested for a mixed-use scheme including 200 residential dwellings and erection of new buildings up to 30-storeys in height.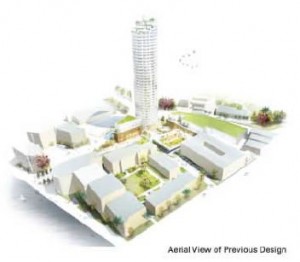 And developers will find without any pain all the justification they need thanks to the already approved towers in the close vicinity, that they quote on page 4 of their exhibition documents:
98 York Road: 17 storey tower
Heliport heights: 4+15=19 storey tower
Homebase: 20 storey building (actually now 21!)
Lombard Road: 28 storey building
56-66 Gwynne Road: 14storey building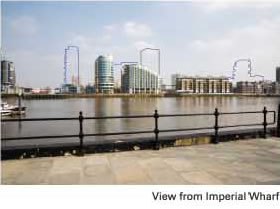 And – contrary to the Council – they are not ashamed to show some  cumulative impact along the Thames.
It looks like the developers are quoting CJAG in their list (we should have asked for a patent 😉 ).
> Read:Planning in Wandsworth: is the Council out of control?
In any case, this was exactly the subject of our public meeting organised last November. You can see in this article that the cumulative impact of all those developments which the Council is approving was made clear through our presentation. And although we did not have the architects plans for 100 York road at the time of the meeting, we were quite close in our mocking exercise: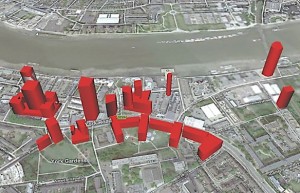 A planning application will be submitted in Spring 2016.
A few weeks ago I heard that an officer made a comment about Manhattan and how nice it would be to get the same here. Apparently it was not a joke…
Filed under: York Road area