Author: Cyril Richert
28 storeys in Lombard Road, 21 storeys and a podium to replace Homebase in York Road, buildings on York Gardens… but also the 36 storey tower Chinese development at the Ram Brewery, a 26 storeys in Garatt Lane and a large scheme near Wandsworth roundabout: all against planning regulation, all justified because "benefits outweigh harms", large developments regularly recommended for approval despite planning policies, a government inspector saying that a big part of Wandsworth planning documents are ineffective…
If you want to know about that and much more, come to our public meeting this Sunday:
Sunday 1st November 2015
3pm-5pm
Venue: York Gardens Library 34 Lavender Road SW11 2UG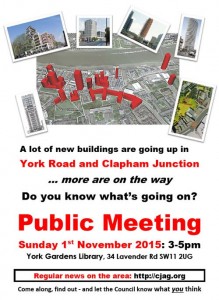 Discussion will be held about planning applications approved by the Council, the proposed developments, the planning policy documents (including their use by Wandsworth Council), the recent directions given by the local authority throughout the borough, and of course the community involvement and views of local residents.
A panel of speakers will talk about the recent outcomes in the area and the meeting will be open to comments made from the audience.
Speakers will include: Philip Whyte (Wandsworth Society), Cyril Richert (Clapham Junction Action group), Tony Belton (Councillor Latchmere Ward), Resident Members Committee of The Candlemakers Apartments.

Come along, find out, and let the Council know what YOU think!
>> You can download, send/print and distribute the leaflet >> HERE.
Filed under: Clapham Junction