Author: Cyril Richert
The Clapham Junction Action Group is organising a public meeting on
Sunday 1st November 2015
3pm-5pm
Venue: York Gardens Library 34 Lavender Road SW11 2UG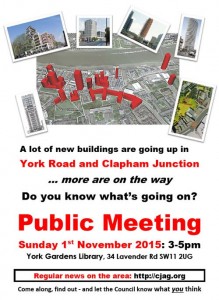 Discussion will be held about planning applications approved by the Council, the proposed developments, the planning policy documents (including their use by Wandsworth Council), the recent directions given by the local authority throughout the borough, and of course the community involvement and views of local residents.
A panel of speakers will first talk about the recent outcomes in the area. The second hour of the meeting will be open to comments made from the audience.
Speakers will include: Philip Whyte (Wandsworth Society), Cyril Richert (Clapham Junction Action group), Tony Belton (Councillor Latchmere Ward), Resident Members Committee of The Candlemakers Apartments. Coucnillors of St Mary's Park ward have been invited but we have received no confirmation yet.
Come along, find out, and let the Council know what YOU think!
Filed under: Miscellaneous