Author: Cyril Richert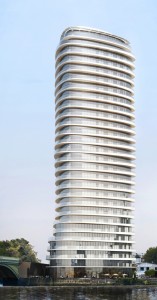 Another very high tower is proposed within the close vicinity of Clapham Junction. Just beside the Grade II listed Cremorne/Battersea railway bridge (where a local architect presented a footbridge linking Battersea square and Imperial Wharf last year), Barratt London is proposing to build a 28-storey tower (12-14 Lombard Road, SW11).
According to their pre-consultation website, the plan consists of:
158 new dwellings with a mix of:

1 Bed: 54 apartments
2 Bed: 80 apartments
3 Bed: 24 apartments

535 square metres of ground floor commercial space
Single level basement with 30 car parking spaces and bicycle storage
The developers describe the scheme as:
"a landmark building that creates a focal point for this important site on the river [and] a unique shape along the riverside with its rotating balconies; reflecting the significant location and aspirations of Wandsworth Council to provide superior architecture in the borough"
This scheme echoes the one proposed by the Council itself in Garratt lane (we were talking about it last week) as it is similarly at odd with Wandsworth Council planning documents.
The Site Specific Allocation Document (part of Wandsworth Borough Local Plan, reflecting the borough statutory policies and guidelines for planning development) has got a section dedicated to the site at 12-14 Lombard Road, SW11 (p174). It says:
Tall buildings: In accordance with Core Strategy Policy IS3d, tall buildings in this location are likely to be inappropriate. In accordance with DMPD Policy DMS4, the height at which a development in this location will be considered to be tall is 9 storeys.
Therefore if more than 9 storey is considered to be inappropriate according to the Council's planning documents, why are the developers proposing a 28 storey tower? Probably for the same reason a 26 storey tower is proposed for Garratt lane (by the Council itself): because nobody care about the rules, and the Council in charge of enacting them is even leading by example.
In order to submit comments, you can contact the developers by email at info@lombardroad.com or call 0845 460 6011.
Filed under: Clapham Junction