Author: Cyril Richert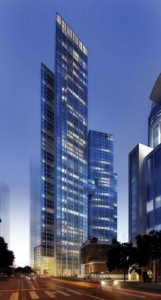 Yesterday night, BBC News (10pm) showed a report from Political Editor Tim Donovan (3'08") about the permission given to a Chinese developer to double the size of a new luxury hotel in Nine Elms at the expense of office space and the associated jobs.
Developer Dalian Wanda has dropped all 10,000 sqm of office space from its planned riverside development at One Nine Elms in Vauxhall, along with his promise of nearly a thousand new jobs. The space has been replaced by more luxury hotel rooms and private apartments.
The report says that Wandsworth planning documents reveal it will mean at least 400 fewer jobs – nearly half those originally intended – being brought to an economic "opportunity area".
Initially the planning permission fro the 60 floors tower block (200m) was for 267 apartments, a hotel and office space. Now both Wandsworth Council (last month) and the Mayor of London have approved the key change.
"Earlier this year, the company applied to drop all the office space, covering seven floors of one of the towers, but maintain the level of housing, which will provide a far more profitable return.

The local planning authority, Wandsworth Council, approved the changes last month subject to support from Mr Johnson [Mayor of London]. […]

According to the company's own estimate, the hotel plan will lead to a maximum of 500 new jobs being created on the site, compared to more than 900 if offices had been retained. […]

Of the 490 flats in the development, 52 are defined as affordable. None of the affordable homes are family-sized, nor for subsidised rent."
As usual, local authorities said "it will help regenerate a neglected area" and it is part of a much wider opportunity area.
It echoes our concerns as expressed in a letter we sent to the government last month about the way Wandsworth Council was circumventing the planning policies to suit the needs of major developers. As all previous attempts to engage with the Council were ignored or dismissed at last, local amenity societies and community groups in the borough decided to write directly to the Prime Minister in a joint statement.
In our report, we list many examples of breach of policy, and some illustrate perfectly the case on office space (page 5 of the section "Our Concerns"):
1.10. Breach of Policy DMTS13 (Offices)
· The Council applies "flexibility" when approving change of use, often meaning the total loss of nearly all local office space in specific developments. The Council considered that hypothetical development benefits should justify this breach of policy.[1],[2]
· While planning policy requires for 100% re-provision of office space in Putney, the Council has been prepared to override policy by accepting that offices are less viable than conversion to residential space.[3]
· The Council accepted site owners allowing a property to fall into a derelict state to justify accepting a reduction in commercial space, which reduced employment opportunities.[4]

[1] P.A. 2010/5483: 84-88 Upper Richmond Road
[2] P.A. 2012/4046: 113 Upper Richmond Road
[3] P.A. 2011/0054: 77- 83 Upper Richmond Road, Putney
[4] P.A. 2010/4520: Tileman House 131 Upper Richmond Road
Our full analysis of recent planning decisions makes damning reading. Planning decisions frequently circumvent local and national policies and guidelines and, in recent years, there have been too many examples of this practice for this to be ignored.
In a recent meeting with societies, the leader of Wandsworth Council went as far as admitting that for him statutory planning policies were not more than simple guidelines that can be ignored for bigger interests.
Filed under: In the press, Nine Elms & Battersea Power Station