Author: Cyril Richert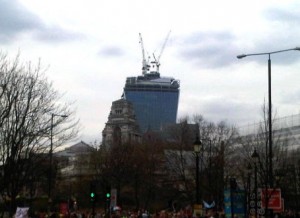 "A record number of London skyscrapers are in the pipeline, prompting campaigners to warn that the capital's skyline could be ruined by a "wall of glass" as property developers seek to capitalise on foreign investor demand for homes in the capital" wrote the Financial Times on Monday 27th January.
Those are news that we have been reporting in several occasion on this website. Foreign developers see London as a very attractive market for they home clients, with money to invest in the UK capital. Thus, Chinese are buying the Ram Brewery site, and it follows rival Chinese developer Wanda's announcement to build a 60 storey skyscraper in Nine Elms, (mostly luxury flats with a small portion considered as "affordable").
While David Cameron, George Osborne and Boris Johnson encourage bigger Chinese investment in Britain, the Parliament as expressed concerns with a  debate about properties being bought by foreigners, last June.
In the FT, Susan Emmett, a director of residential research at estate agency Savills, said that "We need to be building at higher densities to deliver the number of homes London needs. Tall residential blocks help achieve this, particularly near public transport nodes." But do we need more empty units bought by people for the only purpose of using it as an investment/safe deposit, instead of leaving there? Have a look at Imperial Wharf to see the consequence of such developments.
Can we trust politicians to protect where we live?
During its first campaign in 2008, the Mayor of London, Boris Johnson, pledged not to approve such plans if residents express outrage. Six years ago is probably eternity in politicians view and therefore forgettable. Since then he has approved most of the skyscrapers plans and the skyline of the city has changed drastically with the Shard, the Walkie Talkie, the Cheese-grater, the Razor…etc. And currently, more than 200 towers of at least 20 storeys are either under construction or being planned.
In his own party, Mark Field (Conservatives MP for Cities of London and Westminster) is at war against Boris Johnson's decision to grant planning for a massive development around Waterloo station.
As reported in the FT, former Wandsworth council lead, Sir Edward Lister, now deputy mayor for planning at the Greater London Authority, rejected the suggestion that the GLA had allowed a free-for-all on skyscrapers across the London skyline, saying it permitted tall buildings only in clusters, and only in particular areas, such as Old Street, Nine Elms, Elephant & Castle, London Bridge and along the South Bank. "We're not going back to the days of the 1960s, of putting up tall buildings any old where." Only in clusters, really? What about the Ram Brewery?
Filed under: Planning strategy