Author: Cyril Richert
Planning Application 2013/4604 for the erection of single sided Digital Advertisement Display Unit (measuring 6m high by 3m wide) with associated logo box housed within a structure 8.4m high, 3.4m wide and 30cm deep at the Junction (beside Revolution bar) has been withdrawn.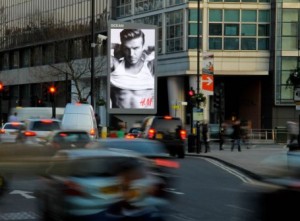 However the one proposed on the pavement beside ASDA (2013/4034), which is well described by the Battersea Society as "visually intrusive, add unnecessary street clutter and create an obstruction to pedestrians" remains.
And the same applications over Trinity Road Underpass and Huguenot Place Bridge have been granted by Wansdworth Council (by 5 votes in favour against 2) on November 7th.
Filed under: Clapham Junction