Author: Cyril Richert
As you might know, Councillors have to fill a form stating their personal interests and declare any potential conflict that could be suspected of altering their decisions during their council's role.
It is therefore very disturbing to discover the link between the chair of WBC Planning Application Committee (PAC) and large developers, including Minerva, owner of the Ram Brewery site.
Privately, Nick Cuff is said to be employed as a surveyor by Essential Living Management Ltd co # 08034947 (this is from the Wandsworth Register of Interests). On the company's website however he is labelled as Development Manager.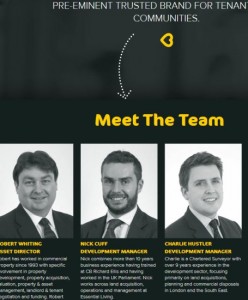 Essential Living Management Limited is an active business incorporated in England & Wales on 18th April 2012. Their business activity is recorded as 'Development Of Building Projects'.

Mr Martin John Bellinger, director and partner at Essential Land (an established development company which specialises in the purchase, promotion and delivery of large urban projects), founded Essential Living in 2012 to run and operate a large portfolio of flats (5,000-home built-to-rent drive, making it the first developer of its kind in the UK). The company financial backers include Delancey, with whom they have partnered several high profile developments.
Minerva, which submitted the plan to redevelop the Ram Brewery, was actually taken over by Delancey and private equity group Area Property Partners in 2011; the deal valued Minerva in excess of £200 million.
Therefore, to cut a long story short, the Chair of the Planning Application Committee Cllr Nick Cuff's employer is a financial partner and works with Delancey/Minerva, which applied for the Ram Brewery redevelopment proposal.
Although there is little doubt that it would have changed the final result of the decision to approve Minerva's plan, it is surprising that Cllr Cuff does not think it necessary to recuse himself from chairing the PAC that granted the controversial permission.
The funny thing is that Delancey has previously objected to Minerva's plans for Ram Brewery in 2008, because of its impact on the neighbouring Southside shopping centre, which it owns in partnership with Land Securities. It called for planning conditions to be attached including a ban on any more than 50% of the shops being let to high street brands and stores remaining at a maximum of 27,000 sq ft [source: CoStar Group]. Since they bought Minerva to develop the Ram Brewery site, their view is obviously now completely different

.
PS: You want to see how seriously Wandsworth is considering the declaration of interest? Have a look at this page.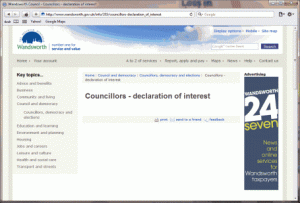 Filed under: Ram Brewery