Author: Cyril Richert
The Mayor of London has decided to approve Wandsworth Council on the Ram Brewery decision to grant planning permission on Wednesday 7 August.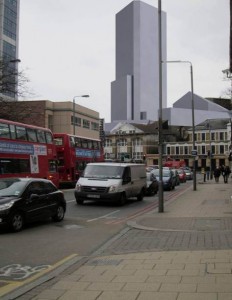 Following the decision to grant planning permission for the Ram Brewery proposal, the scheme was referred to the Greater London Authority (GLA). This is a mandatory process for any major scheme in London boroughs.
The case officer considered all documents received from the Council along with two additional representations from the Clapham Junction Action Group and from the Wandsworth Society and published a report (download HERE, and see page 17 and 18 for CJAG in the report!).
Judging by the numbers, the arguments against the scheme are overwhelming (from page 13 of the report): 35 reasons to objects (and 6 reasons to approve) and 12 main objector bodies (3 supports).
However, as cautious as usual, the officer recommended:
"The response to the consultation raises a number of strategic concerns in particular regarding the provision of affordable housing, heritage and transport impacts. These matters have however been considered in detail in this report and at the consultation stage as set out in report PDU/1 51 9a/O1 [previous letter from the GLA on March 6, 2013]. As such there are no new strategic matters that have not been considered as part of the planning assessment of this case. Suitable conditions and legal agreement have been secured by the Council to mitigate the impacts arising from the proposed development."
and similar to the Peabody case last year, the report highlights the financial considerations from an appeal should the Mayor direct refusal, and the expenses awarded against the Mayor in case of an inquiry directed by refusal.
Former leader of Wandsworth council is approving the decision…of Wandsworth council
In theory, after consideration of the elements given by the case officer, the Mayor of London would be deciding to either refuse the decision made by the council, of to allow the Council to determine the case (in our case, grant planning permission).
But Boris Johnson is currently on holiday, so who is in charge of the decision? The delegation is given to the Deputy Mayor & Chief of Staff… Sir Edward Lister!
Therefore, former Wandsworth Council leader Ed Lister, who approved the former proposal for the Ram Brewery site (before to be refused by the Secretary of States), and went even before Wandsworth Council Planning Application Committee to defend the case, has acted also as the final judge for London's decision!
Planning committees are considered as quasi-judicial body in the UK. In court, the judge involved in the first case cannot be the same magistrate giving the final word on the second one following appeal. Apparently nobody bothers about conflicts of interest here!
UPDATE 09/08/13: We received a response from the GLA case officer:
"As Sir Edward Lister was Leader at Wandsworth Council at the time of the previous application he was fulfilling a different role to that of Deputy Mayor and Chief of Staff at the GLA. In any event, in this particular case we were satisfied in reporting this to him that he has not previously fettered or prejudiced his role in any way."
Filed under: Ram Brewery