Author: Cyril Richert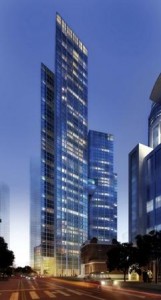 A residential tower block of 60 floors is to be built next to the Thames following a £700 million deal signed in China yesterday by Dalian Wanda Group.
The Evening Standard published an article yesterday explaining:
The 670ft City Tower in Vauxhall will surpass the nearby St George's Wharf Tower as western Europe's tallest entirely residential building when it is completed in about four years' time.

The 60 storey skyscraper will have 267 private apartments ranging from studios to penthouses and 51 affordable homes at the base. Owners of the top penthouse will be able to look down on the London Eye and Gherkin. The only higher homes in London will be the multi-million pound flats at the top of The Shard

[…] Prices of the homes have not yet been set but they are likely to range from around £500,000 to more than £3 million.
As all recent high rise development, it will be mostly luxury flats with a small portion (51 flats at the lowest level) considered as affordable. Here you will notice that it does not say "social", and affordable might just be 80% of market rent (as per the current definition of the government) which little few will consider as "affordable, when you can now find one bedroom flats sold for more than £350,000 in Wandsworth!
Anyway, it is likely to be again more investors from Asia and Middle East, who are currently buying most of the new "luxury" property developments in London. You can just cross the river and visit Imperial Wharf to see the consequence of this politics, with some people claiming that they are the only one living on their floor, the remaining flats being owned by foreigners as "second home". Most of the to-be-built-yet flats in Battersea Power Station have already been sold through a Singaporean agent.
It makes a joke of Wandsworth Leader stating today: "The transformation is now well underway and has started to create thousands of badly needed new jobs and homes". No homes for those trying to live and work in London actually!
In any case it won't stay western Europe's tallest entirely residential building for very long as Tower Hamlets council have been asked to approve a residential skyscraper with 75 storeys containing 822 flats. However, while many expected the plan to received a green light last week, Tower Hamlets' planning committee decided to defer the proposal amid concerns over the height of the tower and the amount of public space included in the scheme. They decided it "was minded not to support" the officers' recommendation [to approve the scheme].
According to City AM, a spokesperson for the council yesterday said: "The application was therefore deferred to allow officers to prepare a further report having regard to the committee's position."
UNESCO urges to stop high rise in London
Billions of pounds worth of high rise developments in run down parts of south London must be halted because they will blight world famous "heritage" views of Big Ben and the Houses of Parliament, the Government was warned today.
The Evening Standard reported today that:
Advisers to the UN's heritage body UNESCO said proposed towers at Waterloo, Nine Elms, Vauxhall and Elephant & Castle needed to be drastically scaled down because of their "negative impact" on one of the world's most photographed tourist attractions.

The report to UNESCO's World Heritage Committee, which is meeting in Cambodia this week, recommends that without action the site, which includes Westminster Abbey and Saint Margaret Church, should be placed on the "endangered" list next year.

This would put it alongside threatened sites in Iraq, Afghanistan and the Democratic Republic of the Congo.
The warning comes at a time when Westminster Council and English Heritage have launched a joint legal challenge against the £800 million redevelopment of the Elizabeth House office block near Waterloo station, and after the 60-storey residential block was revealed as the new investment in Nine Elms.
Filed under: Nine Elms & Battersea Power Station