Author: Cyril Richert
Transport for London and Network Rail have launched a public consultation (from 14th May 2013) on Crossrail 2 – a proposed high frequency, high capacity underground route between southwest and northeast London.
The consultation asks for Londoners views on two potential route options. Both options include stops in Wandsworth at Clapham Junction and Tooting Broadway stations.
Metro or Regional option
A route for Crossrail 2, formerly known as the Chelsea-Hackney Line, has been kept free from any intrusive building development since 1991 and any new buildings along the route have been constructed to allow for a potential new railway line.
TfL is now reviewing this safeguarded route and has proposed two alternatives which would better meet the rail needs of the Capital in the future – a Metro option and a Regional option.
The Metro option could offer a high frequency underground service across central London. This option could be an underground railway and could operate between Wimbledon and Alexandra Palace. The route would relieve congestion on trains and platforms on the Northern, Piccadilly and Victoria lines.
The Regional option could benefit people in Hertfordshire, Surrey and beyond by enabling more trains to run on busy National Rail routes. This route could be a combined underground and overground railway and could operate from Alexandra Palace and stations in Hertfordshire to various locations in southwest London and Surrey.
The consultation will seek the views of people in London and the southeast of England and will run from 14 May to 2 August 2013.
It aims to establish what level of support there is for the project and where the public and stakeholders would like Crossrail 2 to serve.
The public are encouraged to respond and share their views at http://www.crossrail2.co.uk/ 
Crossrail 2 could be operational in 2030.
CJAG published an article in 2010 about the Crossrail 2 project with some early map as below showing a branch south from Victoria Station underneath Battersea Park in the direction of Clapham Junction (shown as an interchange with Crossrail 2 on TfL's East London Line route map).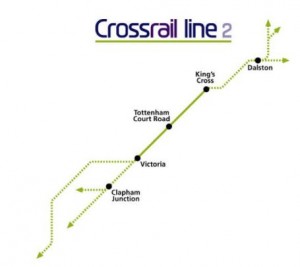 A video was released to show a fly-through of the proposed routes:
Filed under: Station redevelopment