Lambeth Council has unveiled a state-of-the-art waterplay area at Clapham Common. It replaces the beloved but outdated paddling pool that has been a cherished destination since the 1950s.
The free-to-use facility is now open to the public, just in time for the summer holidays. Opening hours are 10pm to 7pm daily, from May to late September. Green landscaping will take place once the facility closes in September for the winter.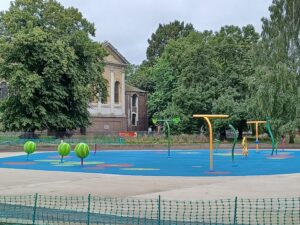 The waterplay is fully accessible to all children, including those with physical, developmental and sensory disabilities. It features an environmentally considerate and energy-efficient re-circulating water system to power the jet network. The design was selected in response to community needs and priorities with some 614 people responding to an extensive public consultation last year with 95% supporting the proposed scheme. Over 800 comments were submitted which helped shape the final design of the scheme.
The facility includes child-friendly toilets.