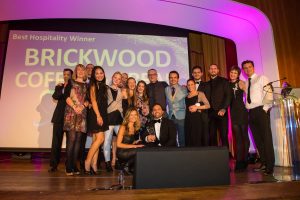 This is the fourth year that Wandsworth Chamber of Commerce has presented its business awards. This year was the biggest yet, with 260 people attending a black tie sit-down meal, gourmet-catered by local foodies Anson and Curtis.
At the presentation taking place in the council's Civic Suite, were many local businesses, competing for 12 awards in various categories, from Best Family Business to Best Hospitality.
Steve Pinto CEO, Wandsworth Chamber of Commerce, says, "Wandsworth Chamber were delighted to be able to continue the tradition of the Wandsworth Business Awards for the fourth successive year. The 2016 Business Awards and Gala Dinner celebrations exceeded all expectations with a record number of businesses and key stakeholders attending. These Awards highlight some of the most vibrant businesses in the borough and set a high benchmark for aspiring local talent. Our sponsors are very supportive and without their help these businesses would not have the opportunity to be recognised, so please visit our website and engage with our Winners, Finalists and Sponsors. …and if you run a business we would love to see you enter next year's Awards."
The awards are the high point of the local business calendar, with Wandsworth comedian John Maloney giving the awards a polished hosting and speeches by Chamber Chairman Douglas Shanks and President Jane Ellison MP.
Category and Winner:
1. Best Green Business
Wandsworth Oasis
2. Best Family Friendly Business
The Putney Clinic
3. Commitment to the Community
Battersea Power Station Development Company
4. Best Hospitality
Brickwood Coffee & Bread
5. Best Marketing
Boot Buddy
6. Best Customer Service
The Hive Honey Shop
7. Best Training & Development
Julius Rutherfoord & Co
8. Best Independent Retailer
We Brought Beer
9. Best SME Business
Assael Architecture
10. Best New Business
Crossfit Shapesmiths
11. Entrepreneur of the Year
Le Bureau
12. Business of the Year
Minar Jewellers
Tooting Market
The main sponsors of the awards were Wandsworth Council and Southside Shopping Centre. The awards show that Wandsworth is a thriving place for business and commerce, and they show excellence in the winning businesses and the many other participants who continue to make the Borough a great place to do business.
Photo by Charlie Round-Turner http://roundturnervisuals.com
http://www.wandsworthawards.biz
http://www.wandsworthchamber.org
Author: This article was written by Julian Jackson, Wandsworth Chamber of Commerce's resident blogger and copywriter – www.julianjackson.co.uk https://julianj.journoportfolio.com