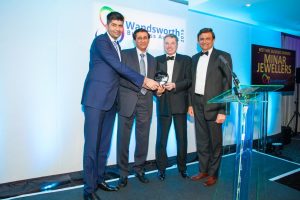 Annually Wandsworth Chamber of Commerce celebrates the best in the Borough's business by having a large and prestigious ceremony to recognise the best and blossoming companies in the area.
There are 11 award categories, including Entrepreneur of the Year, Best New Business and Best Independent Retailer. This will be a hotly-contested event, with a real diversity of different businesses being judged on their merits.
Steve Pinto, CEO of Wandsworth Chamber says, "This is one of the high points of our calendar, with businesses of all types being given awards which show their commitment to better business."
The Wandsworth Business Awards 2016 Ceremony and Gala Dinner Dance take place on
Thursday 8th December 2016
18:30 onwards at the Wandsworth Civic Suite, Wandsworth High Street
London SW18 2PU. Over 250 guests are expected at the celebration.
Businesses that win can display their award and will be able to show that they have reached a standard of product or service admired by the rest of the business community. The awards are sponsored by Wandsworth Council, Indian Room, Indian Moment, South London Press, Banham Group, Southside, South Thames College and the University of Roehampton.
Register for this event at https://wandsworthbusinessawards2016.eventbrite.co.uk
Tickets: £69.00 – non-members: £69.00 (Excluding VAT).
http://www.wandsworthawards.biz
Author: This article was written by Julian Jackson, Wandsworth Chamber of Commerce's resident blogger and copywriter – www.julianjackson.co.uk https://julianj.journoportfolio.com