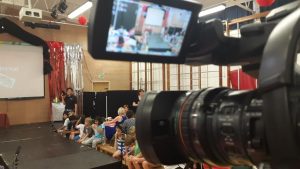 Many local businesses will be familiar with South West London TV, filming Wandsworth Chamber of Commerce events. Founder Peter Fison has just revamped their website to make it more interactive and "connected to the community."
He has had an interesting career. His previous job in IT management was successful, but not entirely satisfying – he liked the buzz from being around creative people, so he set up a video business which evolved to become SWL.TV about three years ago.
The concept is to have three overlapping areas of content production: pure entertainment, such as filming local musicians, business video production – which is the bedrock of the company's income stream, and community work, such as covering charity events. Peter says, "Ideally all three should overlap – for example local estate agents Seymour Green sponsored filming of the Wandle Trust's cleanup of the river. That benefited all involved and the Trust got a nice little video to show what they do, which they couldn't have necessarily afforded without the sponsorship."
The new website is an extension of their aim to reach out to a wide audience across South West London. Although their over 400 videos were reaching a following on YouTube, Peter realised that by posting content to their own site and linking it with social media, he could better reach an audience in and around SW London. He jokes, "I wanted to showcase South West London, and YouTube was giving our viewers video suggestions about South West Carolina."
He attributes some of the "shift in thinking" to the networking events of Wandsworth Chamber of Commerce, where he could see that there were lots of connected businesses and local organisations, which would be needing video communications.
The new website encourages user-driven content. Besides SWL.TV videos, local people can submit articles, photographs, and announce events in a community calendar. Obviously Peter and his team of creative people cannot film every event in the borough, but the new website allows users to connect even without video, for example by announcing their events and posting material, making it more participatory than just a "brochure" site.
SWL.TV works with various charities and community partners across the area. These include the Wimbledon Foundation, which is the charitable arm of the famous tennis club, AFC Wimbledon and Battersea Power Station Foundation, all of which work with local communities to fund valuable projects, as well as smaller charities such as Share, STORM Empowerment, and Oasis to name just a few.
Peter concludes, "I really enjoy making those connections, between disparate groups, so we can all work together. Wandsworth Chamber has been excellent for finding those connections."
Author: This article was written by Julian Jackson, Wandsworth Chamber of Commerce's resident blogger and copywriter – www.julianjackson.co.uk https://julianj.journoportfolio.com