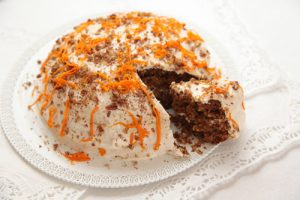 Deaba's Catering and Foods was born in 2009, when her job as a council licencing officer ended. When one door closes, another opens, and Wandsworth Chamber of Commerce member Deaba Akua could now start on her dream. She says, "Two years before I had been thinking of starting a catering business as cooking was a passion for me and I was not getting any satisfaction from my job as a licencing officer at the time. When my contract ended I decided to go for it and start my own business."
The food she prepares and cooks explores and blends together foods of the world with what she calls "my special touch." Deaba caters for events like weddings, funeral receptions, birthdays, office parties, workshops, home entertainment, with her unique range of dips, sauces, soups, spicy bread bites in ten flavours, canapés, savoury cakes and spicy plantain balls. In addition she runs a community lunch on Fridays at the Devas Youth Club (a Rotary Club of Battersea Park community project) in Wandsworth. She is also the official caterer at the Rotary Club in the London District Head Office.
Deaba was born in Ghana and studied history at University. She says, "I came to live here in 1981. I have worked as a secretary, administrator and my last job was a licencing officer. I have always had a passion for cooking since I was a child."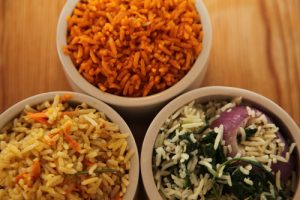 Most of her food is prepared in her own kitchen, then delivered to the venue. She has a range of rice specials, meat and vegan dishes, as well as curries. For afters you can sample carrot cake, plaintain and peanut butter cup cakes or her muffins.
Deaba says, "People say my carrot cake is to die for. My curries are special. My coriander sauce is a special blend. My pitta bites are yummy."
To order her quality catering for a special event call Deaba on 07931 234776.
Contact: Akua Deaba
Email: deaba@deabascatering.co.uk
Author: This article was written by Julian Jackson, Wandsworth Chamber of Commerce's resident blogger and copywriter – www.julianjackson.co.uk https://julianj.journoportfolio.com